Registration for the 4th National Riverfly Partnership Conference 'Riverfly Monitoring and Beyond'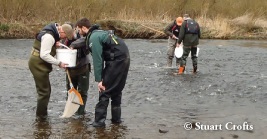 in the Flett Theatre, Natural History Museum, London on Thursday 17th November 2016, is now open.
The conference will bring together organisations and individuals participating in the Riverfly Partnership and the Anglers' Riverfly Monitoring Initiative (ARMI).  The morning will focus on the role that ARMI plays within participating organisations. In the afternoon the theme will be on additional monitoring that volunteers can do to improve their knowledge of their rivers.
For full programme details and to purchase your ticket for the conference click the link below to visit the Eventbrite Riverfly Partnership Conference 2016 page: https://www.eventbrite.co.uk/e/riverfly-conference-2016-tickets-25052942024
Please note that there is a limited capacity in the Flett Theatre so we advise that you purchase your ticket now to avoid disappointment.