The Clyde River Foundation team has a combined 27 years experience working across the catchment. Our core work and vision is described in the River Clyde Fishery Management Plan. All of our staff participate in an extensive scientific programme, collecting and reporting environmental data to inform the objectives of the Plan. Each team member is involved in the delivery of our education projects and has enhanced disclosure through the Science Connects STEM Ambassador programme.
Dr. William Yeomans – Catchment Manager (2002-present)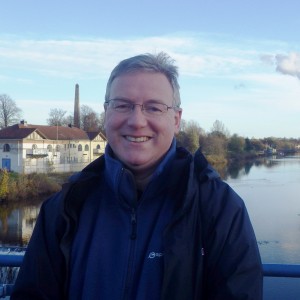 Willie Yeomans graduated from the University of Stirling in 1987. Subsequently, he has worked as a fish farming trainee at Howietoun, a research technician at the Institute of Aquaculture (University of Stirling), spent ten years as a biologist with the Environment Agency working across the Thames catchment and three as a fisheries scientist at its National Salmon and Trout Fisheries Centre in Cardiff. He completed a PhD while working with the Environment Agency, looking at the relationship between fish parasites and river pollution, before returning to Scotland in 2002 to become the Clyde River Foundation's first full-time member of staff. Willie manages the Foundation and directs its work programme.
David McColl – Fishery Management Planner (2006-present)
David McColl has a degree in Aquatic Bioscience and MRes in Marine and Freshwater Ecology and Environmental Management from the University of Glasgow. He led the production of the River Clyde Fishery Management and Biosecurity Plans and is responsible for their implementation. David participates in university teaching, principally in facilitating student research projects both in the field and the lab.
Lesley Deans – Biologist (2011-present)
Lesley Deans has a degree in Environmental Science from the University of Ulster and a Diploma in Industrial Studies, which was gained from a one year placement with the Northern Ireland Environment Agency. Lesley worked with the Agri-Food and Bioscience Institute in Belfast before undertaking a BTCV Scotland Natural Talent apprenticeship with the Clyde River Foundation studying the headwaters of the River Clyde. She is now a resident biologist with the Foundation, with particular responsibility for invertebrate work and student supervision.
Katie Grimmond – Biologist (2017 – present)
Katie Grimmond has an MSci in Biological Sciences from the University of Aberdeen. Katie previously undertook an internship with the Clyde River Foundation and the Hunterian museum to catalogue the Foundation invertebrate collections. She has also undertaken fieldwork investigating damselfly species distribution. She is now a resident biologist with the Foundation.
Dr. Gemma Jennings – Community Engagement Officer (2013-2017)
Gemma Jennings has a degree in Zoology from the University of Newcastle and an MRes in Biodiversity and Conservation from the University of Leeds. Gemma moved to Glasgow in 2008 to undertake a PhD on the ecology of common terns in Leith Docks. During her time at the University of Glasgow, she worked as a graduate teaching assistant and delivered workshops at the Glasgow Science Festival. She previously worked as a voluntary warden at a seabird colony and as a research assistant on biodiversity projects (at Imperial College London and CABI/DEFRA). Since completing her PhD, Gemma has worked as an ornithologist for Macarthur Green Ltd and as a STEM Ambassador, delivering biology outreach work at schools throughout the city. In addition to developing our community engagement activities, Gemma will be heavily involved in our education and citizen science programmes.
Caroline McGillivray – Education Outreach Officer (2002-2016)
Caroline McGillivray has a degree in Aquatic Bioscience from the University of Glasgow and an MScEnv in Environmental Studies from University of Strathclyde. After volunteering with the Foundation, she took on the role of Education Outreach Officer and developed and delivered environmental education projects, principally Clyde in the Classroom. Caroline is now training to become a secondary school science teacher.