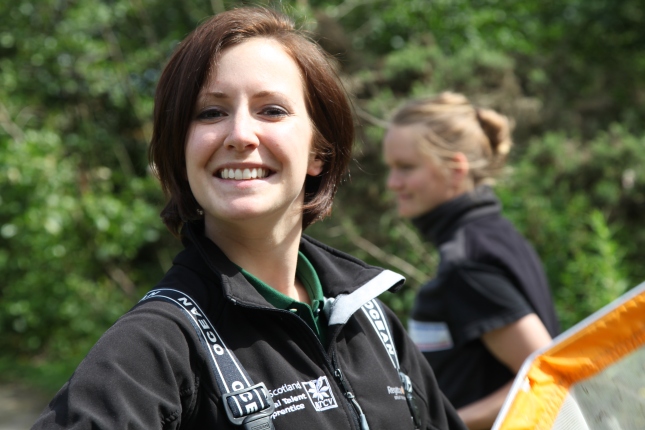 The Clyde River Foundation hosts a number of research and apprenticeship placements in partnership with other organisations in the science and conservation sectors.
This supported learning-on-the-job is a key part of the 'conservation quartet' described in our River Clyde Fishery Management Plan.
Examples of some recent placement positions are detailed below.
TCV Scotland Natural Communities Trainees  (formerly BTCV) 
Nick Underdown (2011): Nick took on a new role as Kelvin Catchment Officer to assist with the Kids and the Kelvin project, scope the need for a River Kelvin network and develop community environmental engagement skills. Read page 4 of BTCV Scotland's 2011 Winter Network Bulletin for an article which provides an overview of the placement: 'Supporting river-based communities.'
Heather Parris (2014): Heather joined us in January 2014 as Community Engagement Assistant to investigate opportunities for building on the CRF's community engagement programme. You can keep up to date with Heather's placement through the Natural Communities blog.
TCV Scotland Natural Talent Apprenticeships
Louis Kitchen (2009): During this 15 month post Louis gained a wealth of experience studying the taxonomy and ecology of riverflies and other freshwater invertebrates – including a detailed study of the invertebrates of the River Clyde in Spring 2009 – working with us and with various other freshwater and environmental organisations across the UK. He was also involved in the delivery of numerous educational events and workshops. Following the apprenticeship Louis continued to work with the CRF on a study of upland mayflies part-funded by a Freshwater Biological Association Hugh Carey Gilson Award. He then went to to work as a Riverfly Officer for The Riverfly Partnership.
Fisheries Society of the British Isles
In 2011, the FSBI established an annual competition to fund summer undergraduate internships for student members. We are proud to have hosted four FSBI interns to date.
James Baird (2011): The bullhead (Cottus gobio) in Scotland. Supervised by Dr Willie Yeomans (Clyde River Foundation) and Professor Bob Furness (University of Glasgow).
Lydia Bach (2012): Effects of heavy metal pollution in brown trout
Harriet Alvis (2013): Bullhead habitat preferences
Simone Hughes (2014): Parasites of small fish species