This Sunday, 17th July, New Glasgow Society is hosting discussions around the River Clyde's past, present and future. A range of stakeholders, including the Clyde River Foundation will be present and all are invited to attend. Please see below and the eventbrite link for details.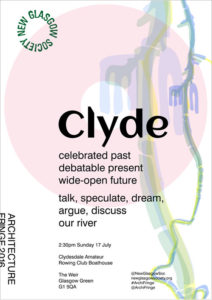 The Clyde made Glasgow, and Glasgow made the Clyde', runs the old saying. It gave Glasgow life, connected it to the world, enabled it to become the trading powerhouse it once was, and has provided inspiration for centuries of writers and artists. So how is being treated in the city's largely post-industrial phase? Who really 'owns' the Clyde? What should we ask of it? What are the priorities for its future?
As part of Architecture Fringe 2016, New Glasgow Society will be hosting a series of talks and open-ended debate on Glasgow's river.
We will be bringing together stakeholders of all sorts to present their viewpoints – from the practical and strategic to the idealistic and speculative. Join us and contribute to a debate around what we can make of the Clyde. and what it may make of us.
Doors 2:30pm for a 3pm start. Clydesdale Amateur Rowing Club – Glasgow Green, G1 5QA
Full details and booking here.