In the run-up to our Clyde Salmon Homecoming Conference on Saturday 21st May we'll be posting a profile for each guest speaker.
Today's focus is on Dr Phil McGinnity (School of Biological, Earth and Environmental Sciences, University College Cork):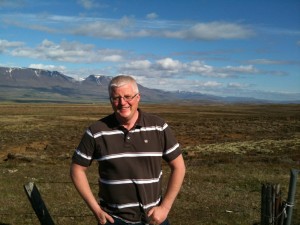 Dr McGinnity has been working in fisheries research and management for more than quarter of a century. He started his career in fisheries as an Inspector with the Northern Regional Fisheries Board in 1985, taking study leave from the Board to complete a BSc in Biology (Hons) at Queens University Belfast in 1989.  He has a PhD, also from Queen's, in population genetics, supervised by Professor Andy Ferguson which he completed part-time in 1997, while working as a biologist for the Salmon Research Agency of Ireland (now the Marine Institute) at it's famous research station on the Burrishoole River in County Mayo. He was a biologist and team leader with the Institute until 2008. He did a spell on secondment as Director of Protection and Conservation in the Central Fisheries Board between 2000 and 2002 and since 2008 has been employed by University College Cork, though, still based at Burrishoole, as the Principal Investigator for the prestigious Beaufort Marine Research Award in Fish Population Genetics, which is a seven year, €4m, joint collaboration between University College Cork, Queens University Belfast, and the Marine Institute.
He is probably best known for his research on the genetic impacts of farm escapes, but has also been published widely in the areas of salmonid population biology and ecology, stock assessment, population genetics, evolutionary biology, and the inventory of freshwater fish habitat. Phil has served on many important commissions and working groups, including the National (Ireland) Salmon Commission, the Salmon Commission's Standing Scientific Committee, the Scientific Advisory Committee of the Loughs Agency (formerly the Foyle Fisheries Commission), as a member of the ICES Working Group on the Application of Genetics in Fisheries & Mariculture, to name a but a few. He is a member of the Honorary Scientific Panel of the Atlantic Salmon Trust and is on the Council of the Fisheries Society of the British Isles.
The conference is aimed at anyone with an interest in salmon biology, fishery management or in the ecology of the Clyde system. Tickets are free but limited so please register at https://clydesalmonhomecoming.eventbrite.co.uk.