Only 4 days to go until the Clyde Salmon Homecoming Conference on World Fish Migration Day, Saturday 21st May, so we thought we'd share a profile on our very own Dr Willie Yeomans, Catchment Manager for the Clyde River Foundation: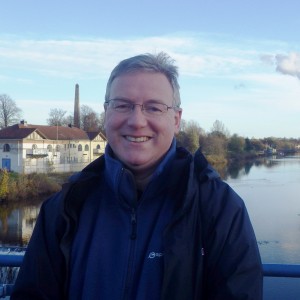 In his first job after graduating from the University of Stirling in 1987, Willie Yeomans reared the fish which were stocked to reinstate the salmon run on the River Carron in Stirlingshire.  Since then he has worked at the Institute of Aquaculture (Stirling) and for the Environment Agency (EA) and its predecessors in England and Wales.  He undertook a PhD (fish parasites and water quality) while working as a Biologist for the EA on the River Thames and subsequently became a Senior Fisheries Scientist at the Agency's National Salmon and Trout Fisheries Centre in Cardiff.
He became the first full-time employee of the Clyde River Foundation (CRF) in 2002 and currently leads a team of five scientists researching the ecology of the Clyde and its tributaries.  The CRF team is based within the Institute of Biodiversity, Animal Health and Comparative Medicine at the University of Glasgow, from where it delivers its science, environmental education and community engagement programmes across the Clyde catchment. Willie's talk will be an overview of the CRF monitoring and investigative work on Clyde salmon since 2002.
Tickets: Registration is FREE via https://clydesalmonhomecoming.eventbrite.co.uk. Hope to see you there!