Less than 4 weeks to go for our Clyde Salmon Homecoming Conference and we are delighted to introduce another of our speakers! 
Today's focus is on Karen Dobbins of the Clyde and Avon Valley Landscape Partnership: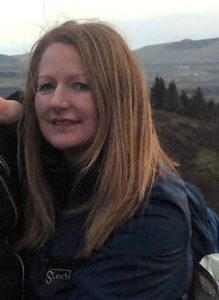 Karen Dobbins is a Development Officer with the Clyde and Avon Valley Landscape Partnership (CAVLP).  CAVLP is a Heritage Lottery Fund supported programme which aims to conserve, enhance and celebrate the unique landscape and cultural heritage of the Clyde and Avon Valleys.  Part funded by HLF until 2018, the programme will deliver over 70 projects with key partners including Central Scotland Green Network Trust, Clydesdale Community Initiatives, New Lanark Trust, Northlight Heritage, RSPB Scotland, Scottish Natural Heritage, Scottish Wildlife Trust, South Lanarkshire Council, North Lanarkshire Council and Rural Development Trust.
The range of projects being delivered focus on four different work streams: conservation of built and natural environment, increasing community participation, enabling access to, and learning about, the landscape of the Clyde and Avon Valley and providing new training opportunities in heritage skills.  The emphasis for all projects across the work streams is to provide a platform for community engagement, volunteering, learning and training.
The conference is aimed at anyone with an interest in salmon biology, fishery management or in the ecology of the Clyde system. Register for your free ticket here: https://clydesalmonhomecoming.eventbrite.co.uk.