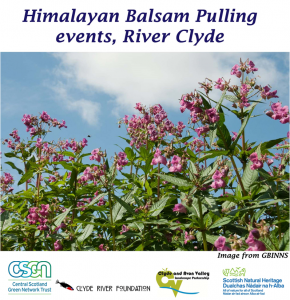 Interested in spending some time along the River Clyde to help tackle aliens?  Then join in and help to pull Himalayan balsam along the River Clyde walkway to stop the spread of this invasive plant. The Central Scotland Green Network Trust (CSGNT), in association with the Clyde River Foundation, Clyde and Avon Valley Landscape Partnership and Scottish Natural Heritage, has organised three Himalayan balsam pulling events throughout July – Thursday 3rd (Maudslie Bridge), Friday 4th (Strathclyde Park) and Saturday 26th (Orchard Knowe).
Follow the links below for full details of each event.
Thursday 3rd July – Maudslie Bridge
Friday 4th July – Strathclyde Park
Saturday 26th July – Orchard Knowe
Gloves will be provided but long sleeves and long trousers recommended! We hope you can make it and if you're interested in finding out more, please contact Emilie at CSGNT on emilie.wadsworth@csgnt.org.uk or  01501 822015. You can find out more about Himalayan balsam here.