We received lots of amazing and inspiring entries for the Fish in Schools competition and invite you to check them all out below.
During Fish in Schools, pupils learned about their local rivers and some of the challenges they face such as litter and pollution. After several weeks of looking after their brown trout, many of the participants were keen to spread the word about taking care of our rivers so we made it the focus of the competition. Each class was invited share their message with the local community in order to promote their river and encourage better stewardship, so it can be enjoyed by everyone. We are delighted to announce St Andrew's Primary School, with their 'Respect Your Rivers' video, as the competition winner.
The prize: The winning class will win a "guddle" event for their local community who will be invited to come and take a closer look at the wildlife the river supports. We will report back after the event.
Winner: 'Respect Your Rivers', St Andrew's Primary School, Airdrie
Well done to St Andrew's Primary – looking forward to seeing you at the river!
Check out the other amazing entries here…
Highpark Primary School, Glasgow: 'Highpark News'
Quarry Brae Primary School, Glasgow: 'Fish Song' (lyrics below)
Lyrics:
Our Burn at Toll cross park, some people do not care and
Drop their litter there mm mm
Drop their litter there mm mm
We like playing at the park and want
people to take care and not drop
their litter there mm
and not drop their litter there mm
But the fish are living and
Can't stop won't stop swimming
It's time to love our park, in Parkhead
saying keep our rivers clean
Chorus
cause the children gonna play, play, play, play, play
and the rivers gonna flow, flow, flow, flow, flow
and the fish are gonna swim, swim, swim, swim, swim
swim along swim along
St Paul's Primary School, Shettleston: 'The River Clyde; Keep it Clean' leaflet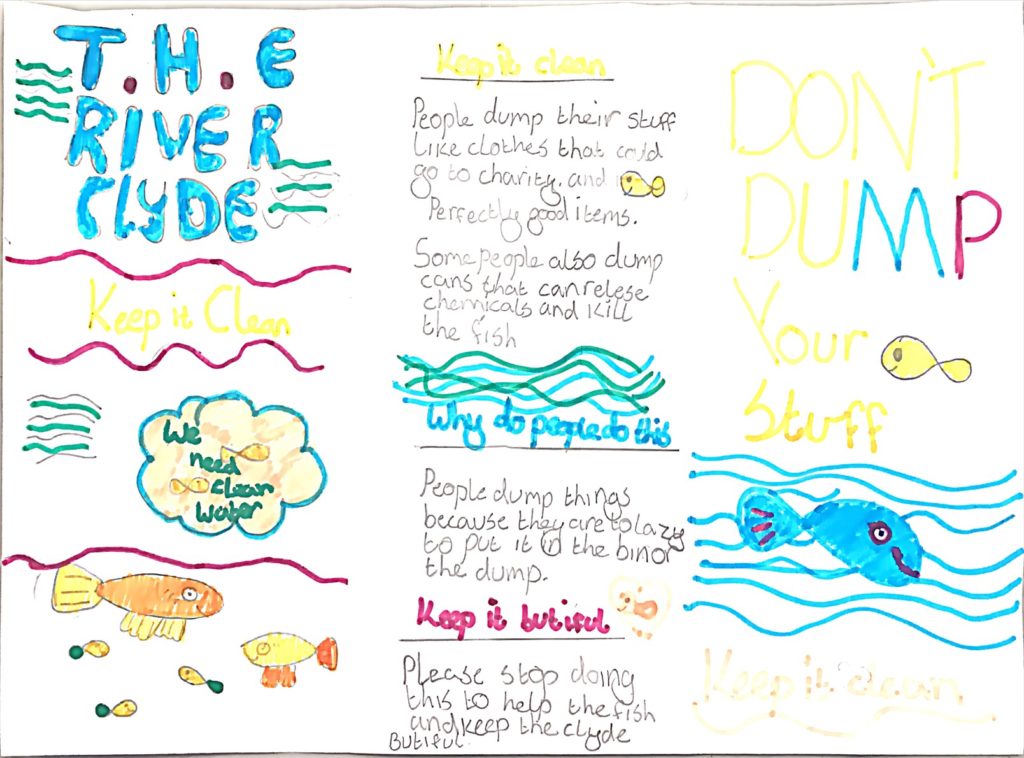 St Vincent's Primary School, Glasgow: 'St Vincent's Primary School News – brought to you in association with Fish in Schools'