Science
Science to support environmental management – our datasets provide context.
We are currently undertaking a comprehensive baseline survey of all fish species in the Clyde Catchment. It is our aim to provide high quality scientific data to inform and support local fisheries management and national initiatives.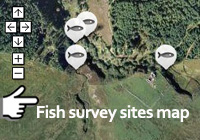 Fish communities have been surveyed by electrofishing and netting. Electrofishing data are collected to the industry-standard protocols devised by the Scottish Fisheries Co-ordination Centre (SFCC). Our fieldwork is carried out by Clyde River Foundation staff and volunteers from local angling clubs, all of whom are appropriately trained. We now have considerable fisheries data covering a large portion of the catchment.
To further our understanding of the River Clyde catchment we are also studying environmental quality using benthic macroinvertebrates. Since spring 2005 we have accumulated macroinvertebrate data from a number of sub-catchments.
We have an on-going habitat surveying programme which identifies the quantity and quality of fish habitat, the locations of barriers to fish migration, sources of pollution and the distribution of invasive non-native species.
We promote the River Clyde system as natural laboratory for teaching and research, which has the dual benefits of improving our understanding of the catchment and fulfilling our education objectives.