Today we're delighted to bring you a blog post from Paul Fraser, our MSci Marine and Freshwater Biology placement student, about Scotland to Sargasso – an eel education project that he is delivering in four local primary schools. Paul, Dr Willie Yeomans (Clyde River Foundation) and Dr Vic Paterson (University of Glasgow) visited Eastfield, Ballmalloch, St Patrick's and Kilsyth Primary Schools today with some very special deliveries to get the project started. Scotland to Sargasso is a Clyde River Foundation project aimed at raising awareness of the critically endangered European eel and is supported by the Sustainable Eel Group and Bristol Water.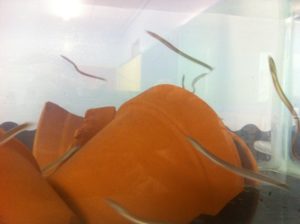 Hi everyone, I just wanted to talk to you all about the Scotland to Sargasso outreach programme and how things are going. But first let me take you back to the beginning…
A few weeks ago I came into the Clyde River Foundation office at Glasgow University and was told there was a parcel waiting for me. I kind of had an idea what it was, but when I saw the box with the word 'Elver'on the side I was full of excitement. Inside the box were hundreds of small European eels which I knew I would be looking after. So for 2 weeks I fed them, watched them grow, and made sure they were healthy and ready for their new homes.
Well today was the day they went to their new primary school homes to meet their class mates, and what a day it was!!
First thing this morning Dr Yeomans, Dr Paterson and I drove to Glasgow and collected the eels into pots so that we could carry them to the schools. It was sad to see them go, but I know they're going to be in great hands in all the schools taking part. So off we went to each school and spoke to everyone about the eel lifecycle. We also had the chance to share some eely good facts, which will help us understand more about eels each week.
Eely good fact #1 …. 'Eels swim at 15km per day, to get back to the Sargasso Sea it would take 433 days'
After we learned about the eels we then popped them into their new tanks in the classes. I couldn't believe how enthusiastic and happy all the children were when the eels went into their tanks. Everyone was super excited and asked some amazing questions, I was thoroughly impressed, I think we may have some future biologists in these classes.
Over the next few weeks we will watch the eels grow in their new homes and look at a variety of topics on eels. The next lesson we have is going to look at why eels have become critically endangered. We will explore if the reasons for number declines are natural or man-made.
All in all I had a great day, I can't wait to get back to the schools soon to see all the happy faces, answer new fantastic questions, and watch the eels develop over the next 4 weeks.