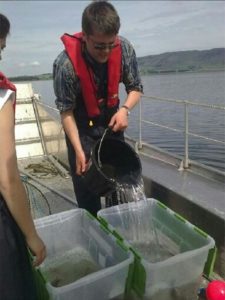 It's Volunteers' Week and we'd like to say a big thank you to everyone who has volunteered with the Clyde River Foundation over the years, supporting many aspects of our work from education to electrofishing. We got in touch with Neil Robins (SEPA) who volunteered with us after graduating to find out about his volunteer experience. This is what he had to say:
"After finishing a BSc in environmental science in 2008 and then a MSc in aquatic ecosystems in 2009 I found that getting someone to pay me for my new found skills was more difficult than I'd anticipated, largely thanks to the financial crash and the subsequent lack of funding available, particularly for environmental organisations.
I started to look around for ways to improve my skill set and hit upon the idea of contacting the CRF.  I arranged to meet Willie, the Director of the Foundation, and we agreed on a programme for me – as he said, there would be no point in me spending my time helping them if I didn't get something out of it, too.  Willlie's experience as a University of Glasgow lecturer really helped here because he knew exactly how to structure my time at the Foundation so that we both got the most out of it.
I started by sorting through the huge collection of invertebrate samples that the Foundation had amassed from their survey work.  I can't remember exactly how many there were, but it was more than enough to keep me occupied!
The staff at the Foundation couldn't have been more helpful – they took time out to explain the finer points of invertebrate ID and, once I'd gained a huge amount of experience here, I joined them in the field where I was able to learn about fish habitat and electrofishing surveys.
I really can't overstate just how good my experience with the CRF was; I was trained by some of the most experienced and knowledgeable fish biologists in Scotland and there aren't many people who can say that.  You might not think it to look at them, but they are hugely respected in their field.
The skill set I developed with the CRF led directly to me getting my first paid contract, as a fish biologist with SNH on their Loch Leven reserve.  After that, I went back to the CRF and spent my time as a mixture of part-time volunteer and part-time paid employee before getting a seasonal countryside ranger job at Mugdock Country Park. I was told after I started that the one thing that made me stand out from the other candidates was the time I'd spent as a volunteer.  I then got a full time job with SEPA, and these days I'm based on the west coast of Scotland where the skills I learned from volunteering with the CRF are put to good use on a regular basis."